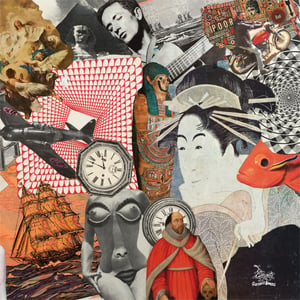 $

22.00
Old-school "tip-on" luxurious Stoughton gatefold
First pressing - 500 copies
Collectable download card included
Insert included
Stream or download on Bandcamp.
Featuring Greg Ashley (The Gris Gris), members of the Time Flys, The Wrong Words, Drunk Horse, Part Time, Extra Classic.
"'Age Of Machines' is a monolithic double dose of tracks that - for reasons unknown - were left stewing for most of a decade. Odd that this stash went into cold storage, being that their first LP was received positively (though not so much 'round here) and the band having achieved local supergroup status early on. In case you're out of the know, Sir Lord Von Long Name features a cast of well dressed, booze-stained characters from The Time Flys and Gris Gris era along with other Bay Area part time punks and party poppers. Here they roll out the high pile shag in the back of their mid-Seventies Econoline and slather the interior with a dewy coat of boogie, hand claps and warm Schlitz. Matthew Melton was seen thumbing a ride in their rear view, but this bus keeps on keeping on. Live, I came to the conclusion that they had already nailed the Big Star-meets-Groovies moves as good as any would try or dare. On record, tunes like "In The Cups" or "Bare Bottom Time" lays the proof to the platter, while mixing in some tear-away Can't You Hear Me Knockin' endtro swag and space warble ala' The Gris Gris. Adding ice rink organ to their already rollicking pop would seem schmaltzy if performed by the lesser skilled, but placed here - along with the honky-tonk of "Stealing" and the southern drawl of "Misery Loves Company" - it almost hits on a Deadly Snakes or Golden Boys vein that appeals muchly to my soft (and growing softer) sides. Elsewhere you'll find nods to The Dolls/Thunders sleaze during "Sex Change Operator", the glamstain smears and nearly Nick Lowe nuance of "On My Own" and the soul-greased 50's flutter of "Three Chords".
Expect forays into city rock and barroom 'billy as well, as no Seventies excessive coke-fueled sound gets passed by. Not surprisingly, this long-long play is seamlessly threaded together, like one would assume from scene players of this pedigree. There's just enough grit in Greg Ashley's production and Eric Johnson's nasally sneer to keep them off the major label radar (though there's definitely a few moments that could easily grab, say a Raconteurs fan's attention). It's a lot to take in - hell, it should have probably been two individual records released over the past few years - but what to do? I find it hard for me to really froth on in detail, with my well known lack of lust towards most bands of this ilk, but they do such a damn fine job I feel folks with a hefty Seventies Stones catalog, a Chilton and Bell fascination or those who religiously subscribe to the Sing Sing reissues will find this a worthy catch. In this rolling tide of goofy King Tuff sleaze, knuckle-dumb Apache shenanigans and other piss poor wanna-be's, The Raven measures heads above. Not sure how many copies there are available. Guitars & Bongos loves their classy tip-on, double gate-fold LP sleeves, so I'll assume quite a few. They gotta' recoup the insane printing costs, y'no. (RSF)" - Terminal Boredom
"Featuring about as good of a Bay Area Rock&Roll lineup as you can get without members of the Cuts - Sir Lord Von Raven took a bit to get this record out, but honestly this is the perfect time to release a record like this. The kids are looking for a more open Rock&Roll sound, not to be packed in too tightly to some subcultural hole & with plenty of room to express themselves & The Age of Machines is just that kind of place, wide open, full of possibilities but with a solid foundation of Rock & Roll" - Pork Magazine
"SLVR's sophomore album is no replacement for our quintessential pioneers (The Iggys, the Sky Saxons, the Little Richards), but this record will spin well for years to come. The staggering amount of inspiration, talent, discipline and goddamn doing is harrowing. Multiple singles pop up on every face of the LP. Songs so good that bands in basements would weep if even one manifested before them. But 22 good songs from one band, today? That shit cray (or possibly related to SLVR's disavowal of social media's persistent distraction)." - Lo-Pie
"Real rock 'n' roll fans always get their riffin' r'n'r/psych/garage fix from anything involving guitarist (Gris Gris, Mirrors, Strate Coats, solo) Greg Ashley, and teaming him with Eric "Sir Lord Von Raven" Johnson produces the right rumble on this sophomore 22-song, double LP slam-bang. With the abandon and R&B raunch of 1963-65's Rolling Stones, Pretty Things, and Easybeats, the snap of Raiders rave-ups, the wild shimmy of Four Tops' "Shake Me Wake Me (When It's Over)," the post-Stax-punk of The Saints' Prehistoric Sounds, and the inspired lunacy-bop of Robert Pollard, these boys make party music for people to shake it—raw and boisterous, connecting soul and beat group stomp with guitars like Bo Diddley and New York Dolls did 'em. And who else would cover/speed up L.A. kids The Clap's "Sweet Smell of Success" off 1976's collectible Have You Reached Yet? Rock it!" - Jack Rabid, The Big Takeover
"Six years in the making, it finally arrives! It's the second album from Sir Lord Von Raven, The Age of Machines, and yeah it was worth the wait. Not just one but TWO slabs of sexy vinyl genius!" - The Bay Bridged
"From emulating the gritty Max's Kansas City, New York x London scenes of the 70s, to mimicking the Detroit rambling-gambling action of the 60s heard on tracks like, "In The Cups"; SLVR's latest offering keeps an ear keenly glued on yesterday as a weapon against the crowded confusions experienced by today's current market over-saturation enabled by all the latest technological advancements." - Impose
"Wow! what a far-out rock and roll record. It's all here kids, naked in its rock and roll glory. A brilliant amalgamation of 50s rock and roll, the British Invasion of The Kinks and the Stones, the power pop of Big Star, the punk of 999 and The Jam, the glam of T. Rex, the new wave of Squeeze, all jammed into the garage." - 50thirdand3rd
"I don't wanna be part of the network!" sings Eric "Sir Lord Von Raven" Johnson on his sophomore album, The Age Of Machines. The eponymous track (a bona-fide rock n' roll luddite anthem) echoes an anti-tech sentiment present in much of his work to date. His band, which uses the abbreviation SLVR, has a minimal online presence (no Facebook, Twitter or Instagram) and he's even resisted getting a cellphone to this day. By avoiding such modern distractions, the venerable Lord Raven has had ample time to craft one of the most authentic and exciting Rock N' Roll records you're likely to hear this year, or any other!
The Age Of Machines offers four––count 'em, FOUR sides of soulful psych-rock, effervescent boogie and heartbreakingly beautiful oldies-inspired rock n' roll that never lets up. There's the Alex Chilton-doing-60s Stones swagger of "Bare Bottom Time", "Pissin' Your Life Away" and "Sweet Smell" (a cover of proto-punks The Clap). In "Three Chords", an easy favorite, Johnson spreads the rock n' roll gospel while the band literally bubbles over with rollicking enthusiasm. There are pissed-off fist-pumpers like "Stan the Man", which channels Slade and psych-era Pretty Things. There's the swamp-glitter masterpiece, "Madame Mischief" (think Bowie/T. Rex with street cred); its startlingly powerful breakdown and triumphant Velvets meets Stax coda send shivers to the cortex. "Don't Wake the Baby" treats us to a full-on sax n' piano-pumper ala The Big Bopper; just as it begins to hint at self-parody, the half-time chorus creeps in and we're catapulted to the stratosphere once again.
Johnson's surreal lyrics abound with science-fiction imagery: in "End Of Days" he caterwauls a tongue-n-cheek admonishment, referring to the human race as "Parasites of the cosmos…" over a manic, Motor City guitar-driven, runaway-train of a song.
The fourth side of a double LP is notoriously hard to fill; artists seem to leave it as a repository for filler, and subsequently the whole double album concept begins to look thin. Not so with The Age Of Machines, in fact "Stealing" could be the single. It's a breezy, romantic number that fully displays SLVR's common love of 60s soul, with clever instrumental breaks and Johnson's trademark child-like vocals setting it apart from (and above) the rest of the modern-garage hordes.
Although firmly rooted in the sounds of the 50s and 60s, The Age Of Machines transcends pastiche with its subtly complex song arrangements, savvy instrumentation and irresistible sense of joy––and boy, do the hooks abound! Featuring an all-star cast of Bay Area musicians and produced in suitably atmospheric, gritty/pretty fashion by Greg Ashley (who also plays lead guitar on the album), each of the 22 cuts on The Age Of Machines give cause for celebration… and celebration is what great Rock N' Roll is all about.
-Andy Human, Oakland, 2015
Sir Lord Von Raven- Lead Vocals and Guitar
Greg Ashley- Lead Guitar, keyboard
Josh Miller- Bass Guitar, vocals
Jay "Bronzo" Bronzini- Drums on +
Tony" The Mongoose" Leal- Drums on =
Chris Johnson- Drums on ^
Wallace LaFont Jr- sax
Produced by Greg Ashley & SLVR
Cover Art by SLVR
photography by Chris Anderson and Tiger Lily
SIDE 1
1. The Age of Machines =
2. In The Cups =
3. Bare Bottom Time +
4. Movin' On +
5. On My Own +
6. Sex Change Operation =
SIDE 2
1. Three Chords +
2. Madame Mischief +
3. Pissin' Your Life Away =
4. Stan The Man =
5. Sweet Smell =
SIDE 3
1. The End of Days +
2. Bats In The Belfry +
3. The Other Side +
4. Don't Wake The Baby +
5. The Cat's Away +
SIDE 4
1. The Only Ones ^
2. Stealing ^
3. Bide Your Time ^
4. Identify Crisis ^
5. Gulliver's Travels ^
6. It's Not Your Fault ^