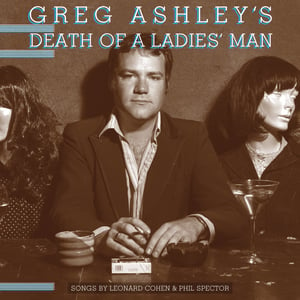 $

14.00
First pressing - 500 pressed. The LP comes with a collectible download card. Gorgeous jacket and double-sided insert.
Stream or download on Bandcamp.
"HOO BABY we're stoked beyond belief to see another Greg Ashley solo record comin' our way! Gris Gris were (and remain) one of our faves o'er at the shop and Greg's one talented mofo! Ashley throws another curveball at us with this fairly reverent cover of Leonard Cohen's album "Death Of A Ladies' Man"!
Cover albums are a tricky business and can go horribly wrong in a heartbeat, but Ashley is so-well acquainted with Cohen's work and his world that this could conceivably be mistaken for an Ashley record on it's own! Seriously, SO MUCH new life is breathed into these tunes, we MIGHT actually prefer it over Cohen's original! Much of the pathos and pain glossed over by the smoke and (cocaine) mirrors of Phil Spector's production is brought to the forefront by Ashley's own sensitive, no-nonsense recording technique. Ashley plays much of the record himself, assisted by a host of able-bodied West Coast guest-players from both the R'n'R/Garage rock and Jazz worlds (including The Wrong Words' Josh Miller and Kimberly Morrison a.k.a. "The Duchess" from The Duchess and The Duke!) A killer tribute to a killer album and an appetizing teaser to tide us over until Ashley's next solo album next year on Trouble In Mind! Is this worth it? YOU BET IT IS. Grab a snifter of cognac, unbutton the top three buttons of your shirt and throw this one on to ease away the pain of existence! RECOMMENDED!" -Permanent Records
"Thirty-six years after Cohen's release, Ashley's faithful treatment of the original songs clarifies their excellence once marred by Spector.
Ashley is wise to honor Cohen's phrasing and arrangement, because those aspects of Death of a Ladies' Man aren't problematic. Cohen set sordid scenes to broad musical arcs with evocative vocal delivery, but Spector's tinny production neutered the writing's impact. Ashley corrects this by returning low-end to the mix and bringing vocals to the fore. On "Paper-Thin Motel," Ashley elevates Cohen's epiphany about the uncontrollable will of love to a heightened emotional plateau. On "Memories," Cohen's perfectly enunciated climax breathes heavier and pleads more desperately through Ashley's rounded mix and rich vocals.
Ashley isn't out to best Cohen, just tip his hat as an admirer and fellow songwriter. The mock-reproduction album cover boasts female mannequins instead of women, a clever admission that Cohen's scenes and words don't belong to Ashley, but the songs welcome him as a thoughtful visitor. " - Sam Lefebvre, East Bay Express
"Greg Ashley's 4th album under his own name, his first since 2009's Requiem Mass (Birdman), signals yet another change in direction for this multi-instrumentalist/producer/ arranger/singer/songwriter/bandleader. Death of a Ladies' Man is a reverential song-for-song treatment of Leonard Cohen's least "reverential" album: the 1977 Phil Spector-produced album of the same name.
Greg's cover photo replaces actual women with two mannequins, but in almost every other way Greg's stripped down arrangements with a basic bar band lineup give the original animal more human warmth, making the album more accessible than it's ever been behind that bloated fortress Phil built. Ultimately, Ashley's Death of a Ladies' Man pays tribute to the songwriting team of Cohen/Spector.
Greg's rock and roll background informs his Death of a Ladies' Man, but the tenderness, and the mid-life crisis evident in Cohen's lyrics is highlighted, and conveys the meaning of the songs in ways even Cohen might appreciate. Greg also brings the sensibility he honed in the Oakland bar circuit, and his country-tinged "One Thin Heroine/ Misery Again" single (Mexican Summer), to make "Fingerprints" a much more convincing country rocker than it does in Spector's version." - Chris Stroffolino (from the liner notes)
Greg Ashley ~ Guitar and Vocals
Kimberly Morrison ~ Vocals
Josh Miller ~ Bass
Jay Bronzini ~ Drums
Matt Montgomery ~ Piano
L. Chris Stroffolino ~ Synthesizer and Organ
Wallace Lafont Jr. ~ Saxophone
Anna Hillburg ~ Trumpet
Piano on Memories ~ John S. Morgan
Drums on True Love Leaves No Traces ~ Ben Noble-Christoff
Extra Backing Vocals on Hard-On and Fingerprints ~ Eric Johnson and Damon Gallagher
Recorded at The Creamery by Greg Ashley
Side 1
True Love Leaves No Traces
Iodine
Paper-Thin Hotel
Memories
Side 2
I Left a Woman Waiting
Don't Go Home With Your Hard-On
Fingerprints
Death of a Ladies' Man