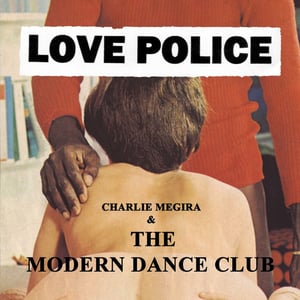 $

25.00
Recorded and mixed in Jaffa, Israel, by Charlie Megira.
Mastered in Oakland, CA by Greg Ashley (Gris Gris)
Deluxe gatefold Double-LP. 100% virgin vinyl.
Digital download card included.
First pressing - 525 copies.
Stream or download or buy compact disc on Bandcamp.
"Whoahhhh! Don't know exactly what just hit me. The photos of the band on the inside gatefold look like they were shot by Jim Jarmusch's grandfather for an early 1950s road trip home movie that ended up being used as evidence in a homicide trial. The press material claims the band is Israeli, but the only evidence of that here is the Old Testament whoopass they put on musical convention. And the music? It's hard to begin: I guess there doesn't have to be any separation between garage rock, art noise, 1950s rock, 2050s roll, shoegaze, experimental experiments against nature, inside out jazz, soundtrack music, ambient strangeness, punk, and the guitar parts on the manliest Smiths records, but until now there always has been. And the guitar playing? What the hell? To be that good at all this stuff is kinda weird in itself, but to be willing to weird out when you could clearly be heralded as a virtuoso in any one genre pigeonhole makes Charlie the free-est, most odd flight pattern flying pigeon this side of the Wailing Wall." - Roctober
"Wow what a doozy of a package! From Jaffa-Tel Aviv via Oakland label Guitars & Bongos comes an astounding double gatefold vinyl LP recorded and mixed by guitar player and vocalist CHARLIE MEGIRA. It is a totally unexpected joy to be listening to this. And I mean all of this, 4 sides! There's blasts of crazy punk and acid rock in small doses. Then, plate of shrimp, for no reason other than to experiment against nature, periods of weird, ambient noise. A reoccurring element on Love Police is some seriously dead cool 1960s LINK WRAY inspired instrumentals. The pace never dulls for a fucking second! Everything blindsided me, I had no idea what to expect, but I feel adequately defiled by Love Police." - Mongrel Zine
"Charlie Megira is a rock dynamo. Backed by the Modern Dance Club, the Israeli songwriter's 2011 double LP, Love Police, is rhapsodic. Thirty-one tracks take listeners through a dizzying melee of uninhibited psych with lapses into punk fury and jarring studio experiments. 1960s pop flees by way of breezy guitar leads into poignant balladry. It's also staggeringly heavy, with pummeling low-end steadying each track for Megira's searing guitar to writhe over. To close it out, "Dead Girl Blues" even provides 48 seconds of acoustic blues. Love Police suggests an artist untethered from trends and cheap pandering, indulging his every whim with an uncanny success rate." - Sam Lefebvre, SF Weekly
"If you pick up just one record, though, do yourself a favor and grab "Love Police" by Charlie Megira & the Modern Dance Club ... The record sounds like Tommy Iommi and Link Wray wrote songs that Warsaw discovered and recorded. So there're a lot of different kinds of guitar work, but Megira's skill and sincerity unifies the album. The gatefold photos look like the band is blazing a trail through the American South, but they're actually posed in front of the Elvis American Diner in Jerusalem. Global rock n' roll worship that's better than most stuff coming out of America." - Apop Records
"Early nineties Sonic Youth, new wave, shoegaze, cowboy folk, 60′s R&B jams? They are all here and I love every minute of them. Of the astounding 31 tracks on the album that Oakland's Guitars and Bongos put out, there is a wall of sound that maybe is best described as a enormous wave of surf rock filled with extra distortion and punk energy that finally comes crashing down in some crazy Israeli's garage in Tel-Aviv...Every note in every one of the songs below seems to say two words over and over again. Get Fucked. And that's a good thing." - Unpiano Music
"Recorded in Jaffa, Israel, Love Police oozes such derelict slime and Manson Family-esque psychosis, it might as well have been taped in CBGB's bathrooms. If the screw-loose Link Wray I saw at Village Underground in 2002 was hit with a bad case of the DTs and screamed like the hallucinating alkies in the detox ward of The Lost Weekend, backed by The Didjits or Pagans, you'd get Love Police. It's sure a calamitous, lo-fi mess of a marvel, and there's no escape!" - Jack Rabid, The Big Takeover
"4.666/5 Pies ... Charlie Megira plays the madman to the Modern Dance Club's varicose alley enforcers on this crash course in subversive rock history ... by far the most interesting record of the year" - Lo-Pie
"This record is at the top for a reason: it seems familiar, and yet is unlike anything I've ever heard ... It's as if Megira is a Nostradamus of trash culture, channeling it into a coherent, irresistible medium for scrying ... In the same way Pasolini,Tarkovsky, and Bergman approach film, Megira's Love Police is an audio study of a particular place and time, and the eternity outside of it." - Weird Missoula, Best of 2012
SIDE A
1. THE RETURN OF THE RUSSIAN FROGMEN THAT DIED AND CAME BACK TO LIFE AS STRANGE LOOKING RADIOACTIVE CREATURES
2. SABABA ONE
3. RHYTHM OF HATE
4. AT THE ELVIS INN
5. NO WAVE EXERCISE
6. EXISTENCE
7. THE WALL OF DEATH
8. U.S.F
SIDE B
1. AND NOW I WANNA DROWN IN YOUR DARK DREAMY EYES
2. BOO
3. BEACH BUMS MUST DIE
4. THE STRANGE AND BIZARRE TALE OF THE BOY WHO HAD ONE TESTICLE TOO MANY
5. 333
6. (USED TO BE...) PSYCHIC YOUTH
7. ELVIS IS NOT DEAD
8. SMACK DAB
SIDE C
1. BENEATH THE UNDERGROUND
2. THE VALLEY OF TEARS
3. MAO/MAO
4. HERE COMES YOUR MAMA
5. ODE TO A COCKSUCKER
6. HOMELESS BODY
7. SABABA?
SIDE D
1. FREAK JUNIOR
2. PSYCHIC YOUTH-2
3. ANOTHER NO WAVE EXERCISE
4. STREET MACHINE
5. DA HOMOGREASER STOMP
6. ALL TUNED UP AND READY TO GO
7. JE NE PARLE PAS FRANCAIS
8. DEAD GIRL BLUES